"

Kingdom Brothers are known to be one of St. Louis' best bands, and that's saying a lot in a city so rich with blues talent!"
— East Side Slim, host of Rhythm Highways on KDHX 88.1
"The Blues Don't Have to be Sad"
  Hailing from St. Louis, Missouri, Kingdom Brothers combines blues, R&B, and gospel influences into a powerful sound with a positive message. They credit their sound to the timeless influence of the blues greats-Albert King, Freddie King, Muddy Waters, Otis Rush, to name a few, and the power and spirit of groups like the Blind Boys of Alabama and the Dixie Hummingbirds.
Featured Artists in The National Blues Museum. Internationally recognized powerhouse guitar and vocals that have dazzled audiences from the heartland of the Blues to Australia and back. 
Press Photos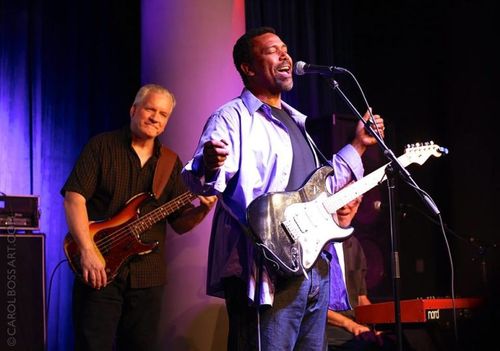 Reviews and endorsements
"Kingdom Brothers are known to be one of St. Louis' top blues bands, and that's saying a lot in a city so rich in blues talent. A 2015 semi-finalist at the International Blues Challenge in Memphis, the combo focuses on spreading hopeful, positive messages all while tackling contemporary themes – yet solidly grounded in the classic blues sounds the band love so dearly. Kingdom Brothers purposely steer clear of the "same old" cover songs during their performances. This band composes much of their own exceptional music – featured on their 2016 release Times Hard, which was recorded by noted engineer/producer/musician Joe McMahan – as the band is gifted with multiple talented songwriters. Rich, earthy vocals? Check. Tasteful dual guitars with plenty of octane in the tank? Indeed. A rock-solid rhythm section that keeps the dance floor full & moving? Right here. Kingdom Brothers have all that and more! "
— East Side Slim -88.1 KDHX's Rhythm Highways: blues, soul, rock and roll....jazz, swing, and everything.
"Kingdom Brothers have brought new life to the St. Louis blues scene. The combined years of musical experience, quality song selection, and crafted original material have rewarded not only them, but the audiences around the country experiencing the music and positive message of Kingdom Brothers. I am a fan of both. "
— John Michael May- Talent Coordinator and Special Events Manager BB's Jazz, Blues and Soups